Curry County Focuses on Low Birth Weight Babies
A program run jointly by the Curry County Health Department and AllCare Health Plans, Inc., will work with pregnant women on substance abuse counseling and nutritional assistance
July 27, 2012 -- The Curry County Public Health Department is trying to make a difference in improving the health of newborn babies. Statewide, of the 45,596 babies born, approximately 6.3 percent had a low birth weight. Although those numbers were considerably lower in Curry County -- only seven out of the 180 babies born that year had a low birth weight – Jan Kaplan, director of Curry County Public Health, believes that figure is still too high. "We want to keep those trends where they are, but it can always be improved."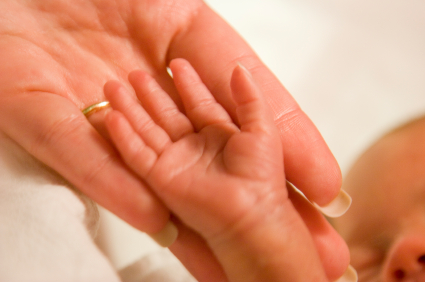 Curry County is preparing to start a program to improve birth outcomes in cooperation with AllCare Health Plan, Inc., which has been certified as a coordinated care organization (CCO) for Curry, Josephine, Jackson and part of Douglas counties.
Two major factors contribute to low birth weight and premature births, Kaplan said -- tobacco, alcohol and drug use during pregnancy, and a mother's nutritional deficiencies that cause their own weight to be either too high or too low.
On average, Josephine and Curry counties have twice the number of women smoking during pregnancy. "We see lots of it," Kaplan said.
The new partnership between public health and the CCO will bring in nurses who'll make regular home visits to pregnant women connecting them with services such as substance abuse counseling and nutritional assistance.
"The notion here is a comprehensive program," Kaplan said.
Such programs are part of a larger, national and statewide focus on preventative care. In the most extreme cases, low-weight babies can develop long-term health issues that can cost up to a million dollars throughout their lifetimes, Kaplan said.
Now the CCO that gets under way next month in Curry County gives the community ample opportunity to integrate existing resources and preserve services that would otherwise face budget cuts.
"That's what we're trying to do, period," Kaplan said. "It makes sense for the CCO to invest in this."
AllCare is funding the program with a matching grant from the Medford-based Gordon Elwood Foundation, while discussions are under way with the Ford Family Foundation and Oregon Community Foundation for additional support.
Kaplan anticipates between 60 and 80 women in Curry County will receive services in the first year with those numbers growing during subsequent years, and the nurses will continue working with the families after the birth.
Cynthia Ackerman, the director of healthcare services and government programs officer for AllCare, is very excited about the program.
"From our perspective, we want to support these efforts in Curry County," Ackerman said. "I think this is one of the reasons there was not even a question about us wanting to be a CCO. We understand that there are scarce resources available to OHP beneficiaries in our communities in southern Oregon. The needs are unique to what's available in the metro area in Portland and up north. That makes outreach programs even more necessary, and it's important to not let them disappear because of funding."
"This is in the spirit of everything we're looking to do with the health care transformation and changing the system," Kaplan said. "I know we can increase the amount of prenatal care that women are getting. It can only have positive outcomes."
Bookmark/Search this post with
Keywords: